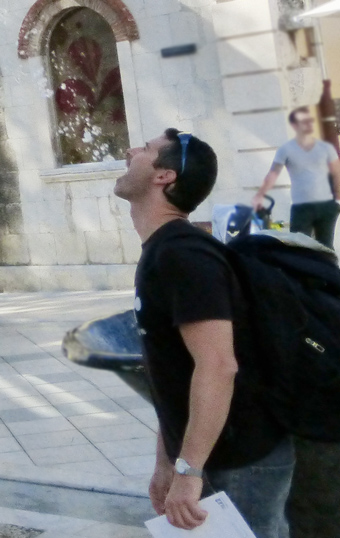 Have you ever done without water as you travel because you don't want to carry a bottle, don't trust the water, or because you won't be near a restroom that day? That's not always a good idea. (Except the part about not drinking bad water.)
Water is important — no critical — to us.
Perhaps even more so when we're traveling.
How much water should you drink daily
We're frequently told to "drink more water" — but that can be dangerous advice if the person giving it doesn't know how much you already drink daily. Unless you're showing signs of dehydration (see the video below) and you're being encouraged to have a glass of water immediately, don't just up your water intake. Too much water, Water Intoxication, can be bad for you. (I actually had a friend who was hospitalized after drinking to much water.)
So how much should you drink?
Today's wisdom, per a study by The National Academies of Sciences, Engineering, and Medicine determined the old rule of 8 8-oz glasses wasn't helpful and now says 2.7 liters for women or 3.7 liters for men.
It seems that when this research came out, quite a few websites picked up on it. For example, the Dr. Oz Show Blog and Self magazine Nov 2017. Here's the Mayo Clinic article: The Mayo Clinic article "Water: How much should you drink every day?" However, I can't find the actual National Academies statement.
Opinions vary as to whether other beverages count as water intake but everything I've read says that water in foods does count.
So rather than general rules, let's look at how you know you need a drink.
Why water is important & how to know when to drink more water
This 10-minute Bright Side video does a good job of showing how to know we need more water and what water does for us.
If you'd like to open the video in YouTube, it'll open in a new tab so you can travel YouTube all you want and when you're done this page will still be waiting for you. (That's an image of dry skin, by the way.)
Remember, a travelers day is often one of exercise
While you're traveling you may not think you're exercising, but unless you're taking taxis everywhere, all the walking you're doing counts. It's always recommended to drink some water before and during exercise, so start your day with water, drink before you head out, and as you're out and about. This article, Hydration for Athletes, provides some good guidelines.
What to do about bad water
Here's a Mayo Clinic article with some recommendations. (It's actually about avoiding Traveler's diarrhea.)
In the 80's backpackers boiled water and also carried Iodine tablets we'd get at Army Surplus stores. Then, and now, they were also sold in camping store. In India and perhaps Nepal, we filled a pitcher of water, dropped a tablet in, and waited the prescribed time before treating ourselves to that so-wanted water. Hostels provided water that was purified some way or another. I also carried a metal canteen of water. Some people only drank soda, but as the soda at that time was only made locally with local water…. (I did get sick. In Nepal I was diagnosed with some kind of a cross between Typhoid and Cholera. However, I don't know where and how I became ill. It could have been by eating street or bus station or restaurant food. I also had Guardia months later, but in another country. )
In 2012, after much research, I selected a SteriPEN Ultraviolet (UV) Light Purifier to travel with as I was going to Central America and possibly South America and I definitely wanted a good water purifier, not just a filter. I also found that where people lived with questionable water, they had a ceramic water cleaner in their homes. I drank that water. While in Europe, Eastern Europe, and Israel, I didn't worry about water. In Poland locals who lived through the Soviet times didn't trust the pipes in older homes so they drank only bottled water but I drank tap water and was fine. (I don't like what the plastic does to us.) I have never gotten sick from water in this millennium.
So for your travels…
If you're going to places where the water is questionable, I strongly recommend you read up on water filters and purifiers. To get you started:
As I write this I see that SteriPEN is actually part of the Katadyn Group now. You'll see cross-over in the info I've recommended. With their new connection, it may be easier to discover what is best for you to travel with.
How to carry water
The common way to carry water is to purchase and carry bottled water but such plastics are harmful to your body and the planet. I prefer having a collapsible container to carry my water. A travel sized SteriPEN would work well with either of these, I think.
My current water bottle of choice is the 1-liter Stash by HydraPak as long as it's used with their optional Watergate (which I haven't gotten to write about yet.). I haven't seen or tried their Stow bottle that's also on that page. I think it's newer and it absolutely promising. The 750ml Stash by HydraPak works well with the Katadyn BeFree refills, I'm told by HydraPak, as the opening is the right size.
The other bottle I might consider is the Hydaway, once they make a larger and lighter version. I've spoken with Hydaway about this and have hope for this in the future so keep your eyes out for it.
I also like having my ChicoBag bottle sling to make carrying it easy.
I have not used either product I link to. My suggestions are by research and other people's words only. I receive no compensation if you purchase.
So…
If you want to be healthy for your upcoming travels, drink enough water.
If you're already traveling and want to stay healthy, drink enough water.
If you're going where the water may be contaminated, pack a good water purifier.
And… if you have experiences or info to share with fellow travelers, please tell us in the comments below.