If you like American Sour Cream, you might love this sour cream in Cost Rica as well. To me, it was like having either Sour Cream or Cream Cheese, only not as sweet. It was also somewhat reminiscent of the fresh cream I loved so much while living on a working farm in Tasmania, Australia years ago. (I ate that cream out of the tub! The Australians found that rather entertaining.)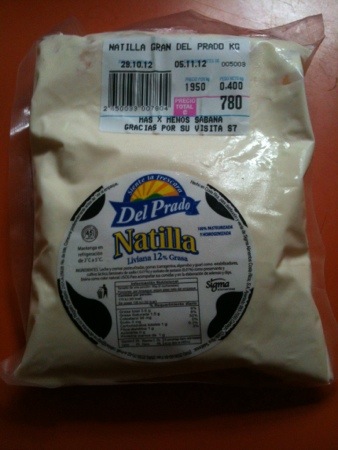 I actually found this next to a liquid Cheddar Cheese, not beside the plastic tubs. I have seen and enjoyed a plastic container of "American Style Sour Cream" when a friend bought it. That was a creamy sour cream just like we eat in the States, but without sugar. It was also more fresh tasting. This bag is the same – but less costly as it comes in a bag.
I have been using it as a pasta sauce, along with minced garlic. This bag covered me for 2-3 meals with the pasta as my complement to fish for two.
This bag was 780 colones ($1.50).
A tub of "American Style Sour Cream" that contained less was $2.50 or more.