Last night I walked (about a mile) to the supermarket. First stop, the fish counter. Fish has been all too rare in my diet on this trip.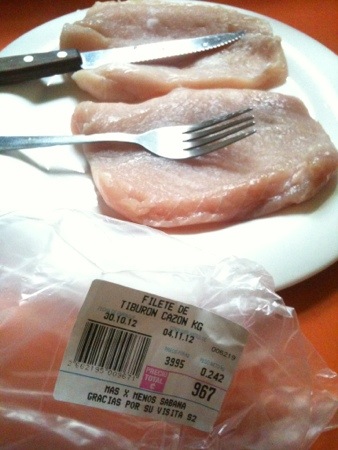 They had some very nice looking fillets. One was Tapia, which is too bland for my taste. There was another white fillet that was less money. As I am not traveling with my spice cabinet, I preferred to gamble on the flavor of the other.
So here is my mystery fish of choice.
These two pieces were 967 colones. At an exchange rate of roughly 500 per dollar, this was a $2 gamble and each piece was $1.
I do carry an excellent Spanish/English dictionary (by Ascendo) with me so I could have looked up the name of this fish. I considered doing so, but I wanted to keep the adventure aspect of this shopping trip alive.
Plus…
I trusted my judgement that these fillets looked good.
Cooking my mystery fish.
Back at my fantastic hostel, name-to-be-added-later, I put one fillet out on this plate and made several slices almost all the way through.
I finely chopped two pieces of very strong garlic carried with me from Cahuita (my previous stop). Then I spread the garlic throughout the slices. When I noticed some pepper, oregano, and basil, I also sprinkled some of each on top.
Then I let this sit, frying pan with margarine (butter is not common here) at the ready, while I worked on the pasta.
When the pasta was done, I heated the frying pan, melting the margarine, then placed the fish in, seasoned side down. I loved the sound of the sizzle!
The fish darkened (cooked) quickly. I flipped it, admiring the look of the seasoning. And then I cut into a corner of it to see if it was cooked enough. Rather than flaking, this fillet had the cutting texture of calamari. I kept the second side face down only long enough to crisp it a bit, to give it a bit of brown.
This fillet, reminded me a lot of calamari, even in taste — at first. Then I noticed it did flake like most fish, but only a very little bit. I loved it because it was fulfilling to be able to bite and chew it, not as much as a soft steak but enough to eat well, eat slowly, and savor.
After I enjoyed my slow lunch, I looked into the fish. It was Shark.
I am looking forward to having my next fillet.