Daniel, his other CouchSurfer, Renata, and I took the bus downtown this morning. We had breakfast at Daniel's favorite place near the square, then walked through the market to pick up some fruit. We are now sitting in a nice, bucket-seat Collectivo bus waiting for 3 more people so it can finally leave. Our destination is Homun, where we will swim in a cenote. We have been sitting in this hot van over 1/2 hour. Riders come slowly, one by one. I would love to know what we will pay and just pay for the other seats. One more woman just came in. Two more. Could be another 15 minutes for that.
I am wearing my GirlTrunks, so I am dressed in a tank top and shorts in public but can jump right into the water. (I love the GirlTrunks for this reason. Also because the shorts dry so quickly.)
While waiting, although I had plenty for breakfast and gave away my 3rd Panuro, I had another Troles (trole?) I picked wrong though and ended up (a man just boarded, one to go) with corn rather than mango. In this land of magnificent fruit and tough choices in flavors of this icy delicacy, it's a pity to miss the mango.
Another woman got on. We are full!
Soon to depart! The driver just started the engine and collected 20 pesos from each of us. I was so happy to hand him 2 large 10 peso coins. And we are off.
The Collectivo left us off on a main road by a sign to the Cenote. From there we had a walk of a kilometer or two if I recall correctly. (I am actually filling these details in starting with this paragraph over a month later.) It was a very hot, dry, dusty walk but there was no transportation in sight. This is a photo of Daniel and Renata.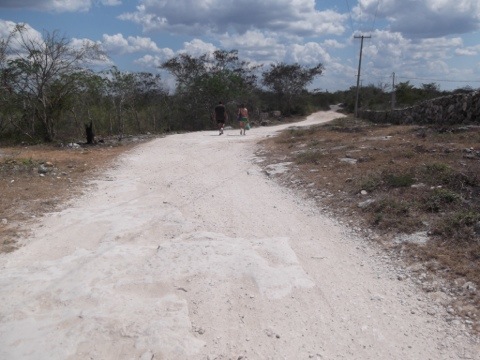 The Cenote was marked by a small sign. There is a caretaker's home or shack, no ticket booth, no Souvenier stands. This is not a tourist destination. A chain link fence encircles the actual hole. Inside the fence stands a very long, somewhat fragile metal ladder. I did not have faith in that ladder , and the dusty hole below didn't look terribly inviting. But, we were there and Daniel was quickly on his way down. Once he was down, Renata braved it. I went down last. Oh that ladder was hot to hold!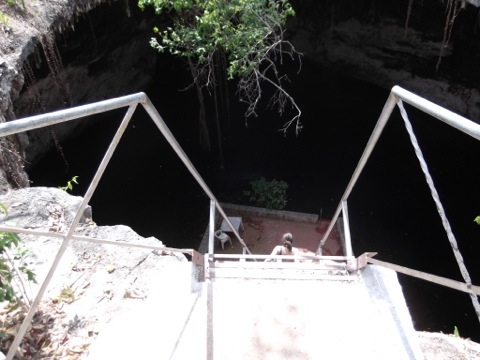 There was a cement landing platform that sported a short ladder into the water on two sides and with a broken plastic table. We placed out market-bought fruits on the table, then braved the water, Daniel first. The water was covered in a layer of dust. Dragonflies flew around. I wondered whether this water was healthy to swim in. As Daniel expected though, once we went in and stirred its stillness, the layer cleared. The water was cool and beautiful. The rocks by the landing were slippery. The caves a short distance away were dark and mysterious. But the water was nice and we were soon enjoying it.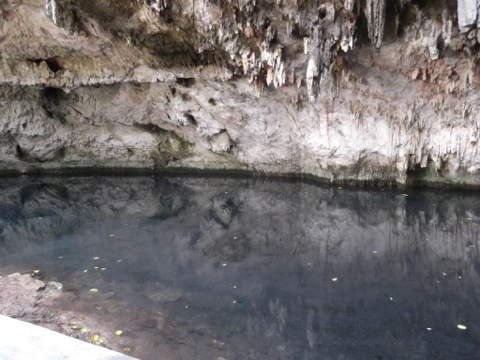 How did the Mayan people get down to this water, I wondered, and still do. They must have arrived to it through caves and tunnels from a more accessible entrance. That ladder was very long and I cannot imagine climbing a rope up to depart.
We had fun here.
We also tested my Sea To Summit water resistant (not technically waterproof) document bag — but as a camera bag. (I bought my camera at the last minute and didn't get to get a proper water bag for it. Plus, I left home with a Kodak waterproof camera and a GoPro camera that comes with excellent waterproof housing, so I didn't count on having need of this bag for a camera. Only those two cameras were stolen.)
Anyway, Daniel put his iPhone in the Sea To Summit water bag and we took movies. That bag kept the camera dry and let us take good videos — even from in and from under the water. I look forward to posting the video.
Eventually we climbed out of the water and up that l-o-n-g scary ladder. (I went first this time.)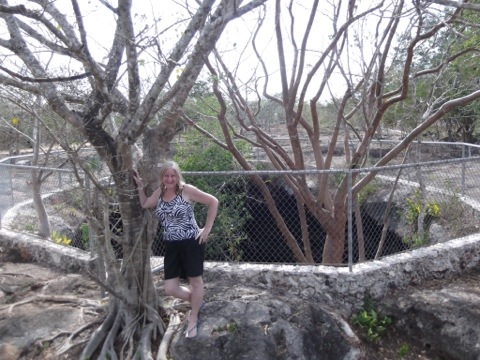 Daniel heard there was a lagoon somewhat further down the road. I didn't realize, but he also thought there were other Cenotes. Lacking transport, we walked back to the main road. We passed a boy with a motorcycle tok-tok. He went to get gas and find us. We took him up on the transport expecting to get in a nice lagoon and swim. Renata and I shared the seat. Daniel road behind the young driver on the motorcycle. Two hours later we were still on that tok-tok!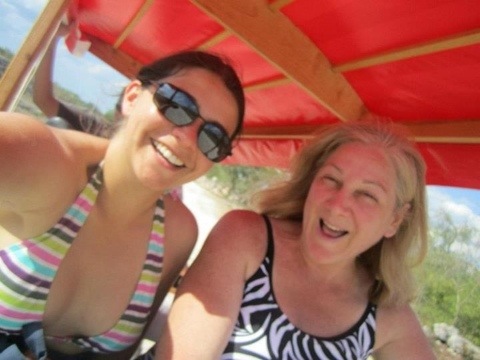 What a very long, very slow ride! I commented that I hope the vehicle makes it. It didn't. We walked the rougher of the rough spots. We kept going. We kept thinking we were nearly there. Long story short, two of us walked the last three kilometers there. And there was nothing there! In minutes we began the long journey back. It was late. We'd missed the last Cooectivo home.
How to get home? We went to the police station and explained — and they helped us get home. They had a friend drive us around asking people he knew to drive us, and found a man willing. (for a fee, of course. It is a long drive back to Merida and then he has to return home. Plus, it was his dinner time. This was a big favor.
The nice man who drove us around and got us the ride, by the way, told Daniel that shortly past the Cenote we went to there was another very nice one in a resort. We had wondered what those nice gates were! But our young, uninformed driver didn't know or inquire, simply telling Daniel there were none. If the Collectivo had let us off in town where the transports were, we would have had an older, knowledgable professional driver and a much easier, relaxing, enjoyable day. Please note this in case you venture out to this place. But Renata and I did enjoy our walk-ride, broken-wheel, will-we-make-it adventure as it was happening. (photo by Renata coming)
So we finally made it back to Merida. Daniel had called a CouchSurfing meetup for that evening and we arrived about an hour late to it.