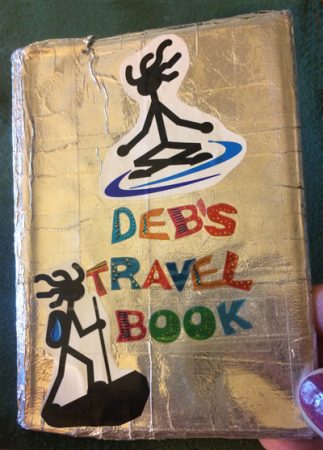 Thinking of RFID-shielding?
As I prepared to travel in 2011, and ever since then, I have been reading that people can easily purchase a RFID-reading machine and then pick up your credit card info from inside your pocket, luggage, or handbag. Honestly, I have no first-hand proof that they can. Nor do I have proof that they cannot.
BUT… Knowing it was a possibility, I opted to not take a chance.
Frankly, though, I thought that every RFID-shielding wallet, card holder, or whatever was absurd. Insane prices. Too heavy. Impractical design for travel.
So I looked into creating my own shielding for my chip and strip-containing cards.
RFID = Radio Frequency IDentification
RFID chips are the chips in your plastic cards & one is in your passport as well.
From what I read, mylar or aluminum foil act to shield our cards from these card readers. I looked into buying mylar or comic book protector sleeves of that silvery plastic.
But then I found this…
This is aluminum foil tape. It's a very thin, very sticky aluminum foil used for things such as seal segments of that wide silver vent tube that comes out of your clothes dryer.
There are many brands available. I got lucky and found this one at the 99¢-Only Store, a popular chain in the LA area. I'm sure I'd find a good brand at ACE Hardware or other hardware shops as well.
They say that aluminum foil, being metallic, helps interrupt radio waves.
I cannot promise you this tape is actually RFID-shielding and will shield your cards. However, it appears to prevent scanning of RFID cards from all but very close range. (Here's a good experiment.)
I'd wondered if it would be extra secure by using mylar and then wrapping the mylar in the aluminum foil tape but never had the need to try.
Making my RFID-shielding credit card sleeve
The other ingredient of my credit card sleeve was one of the card sleeves your bank will give you to protect your bank card or credit card.
The new one in the photo below is just a paper sleeve. The better kind is of Tyvek which is what I actually used. (I had one from Chase Bank.)
All I needed to do was use a scissor to cut clean strips a bit more than double the length of the card sleeve, then peel the foil's backing off and press lay the foil over the sleeve. I tucked it under the open edge a bit. That edge needed a bit of trimming to make it smooth. As my tape wasn't as wide as the sleeve you'll see the overlapped area on my real-life sleeve, below.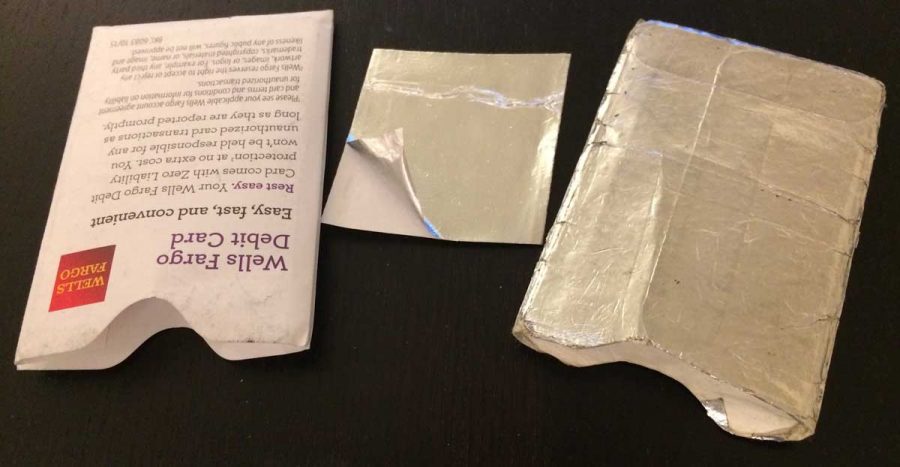 This sleeve, by the way, has been in my wallet holding my cards since June 2014 — over two years! As you can see, it has held up very well. [Update summer 2017: It's still holding my cards.]
Creating my RFID-shielding passport sleeve
I also taped this aluminum foil tape over my nice clear plastic passport cover and used this for my last trip which was one and a half years.
This image shows the work in progress. I continued by wrapping two more strips to cover the entire case.
I didn't love hiding my beautiful passport but I did like knowing I might be protecting myself from identity theft. Over time I had some fun with its decor as you see above in one past version.
The only thing bad about this case was that at passport control stations, the authorities need you to remove your passport from the sleeve for scanning. After a while, my sleeve (not the foil) started to split. I'm now on the hunt for a sleeve that doesn't have so much of a pocket. Or I'll cut the inside of this one to create less of a pocket. That should enable the passport to be slid out more easily.
Testing my RFID-shielding credit card sleeve
To test, I took my credit card sleeve to a Los Angeles Metro station and got permission to try some tests. The official tapped my encased metro card on his machine and, happily, it didn't register. Not face up and not face down. Removing it from my aluminum foil sleeve, the card read perfectly well as normal.
Other options
On the lookout for my perfect but affordable sleeve at the International Travel Goods Show, I found a light, simple sleeve that promises to shield chips, so I may be retiring my passport sleeve and telling you about the other option ($5 for a passport sleeve; a few dollars for a credit card sleeve).
TIP: Remove your passport from a sleeve prior to handing it to the official. It's not fair (or wise) to make their jobs harder and I have seen a few worry about breaking my sleeve. (I'd used this sleeve for 2 years prior to covering it in the foil.)